Difference between revisions of "Automatic Production of Space"
From Cyborg Anthropology
---
Revision as of 17:52, 28 March 2011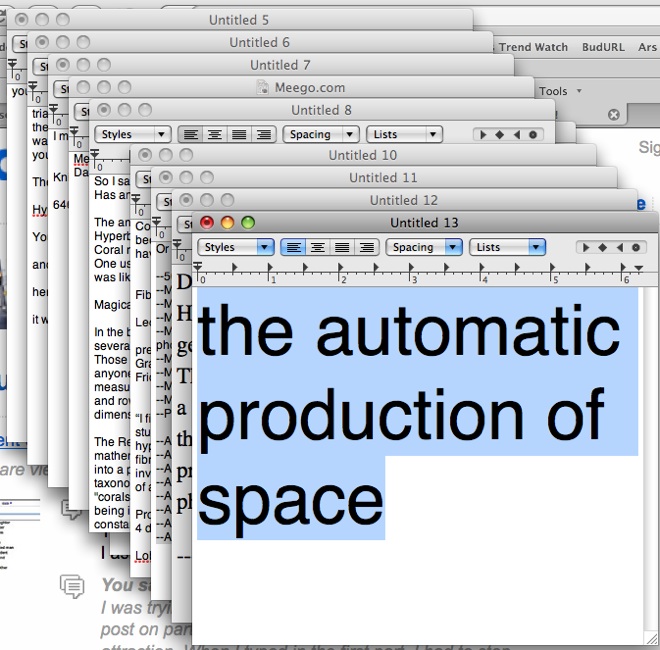 Definition
Every click on the web, every created document and social networking profile. Every wiki page and blog post. All of these have no imitation on space as there is in real life.
The automatic production of space is at it's best in Farmville.
Paper
The Automatic Production of Space
Nigel Thrift & Shaun French
University of Bristol N.J.Thrift@bristol.ac.uk
University of Nottingham Shaun.French@nottingham.ac.uk
Transactions of the Institute of British Geographers
Volume 27 Issue 3, Pages 309 - 335
Published Online: 17 Dec 2002
Abstract
This paper is concerned with the changing nature of space. More and more of the spaces of everyday life come loaded up with software, lines of code that are installing a new kind of automatically reproduced background and whose nature is only now starting to become clear. This paper is an attempt to map out this background. The paper begins by considering the nature of software. Subsequently, a simple audit is undertaken of where software is chiefly to be found in the spaces of everyday life. The next part of the paper notes the way in which more and more of this software is written to mimic corporeal intelligence, so as to produce a better and more unobtrusive fit with habitation. The paper then sets out three different geographies of software and the way in which they are implicated in the reproduction of everyday life before concluding with a consideration of the degree to which we might consider the rise of software as an epochal event or something much more modest.
Related Reading